Nozzle Check Valve / Non-Slam Check Valve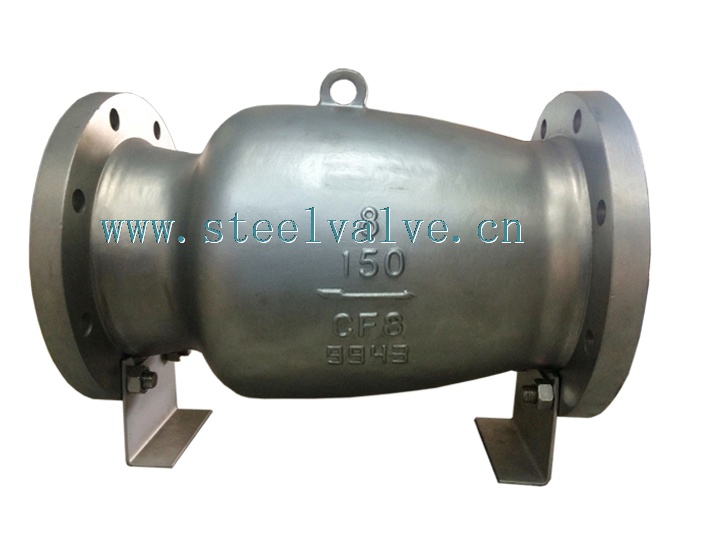 Product name : Nozzle Check Valve / Non-Slam Check Valve
Products Category: > Check Valve

Nozzle Check Valve/Non-Slam Check Valve
Main Feature
It is opened or closed by the valve clack moving to-and-fro through the valve body guiding axle under the spring effect.
The valve body passageway is designed in a wing-shaped streamline type, allowing the medium to flow through the passageway rapidly and steadily with no noise.
It can be installed on horizontal and vertical pipelines.
Main Parameter Specification
Design and manufacture:API594,API 6D,JB/TB8937;
Face to face and end to end:API594,API6D,DIN3202,JB/T8937;
Pressure-temperature rating:ASME B16.34,DIN2410,GB/T9124,HG20625,SH3406,JB/T74;
Inspection and test: API598,JB/T9092;
Pipe flange: JB/T74~90,JB/T9112-9124,HG20592~20635,SH3406,ASME B16.5,DIN2543~2548,GB/T13402,API605,ASME B16.47.
Product Range
Body material: carbon steel, stainless steel, alloy steel,bronze
Nominal diameter:1/2"~48"(DN15~DN1200)
End Connection: RF,RTJ,BW
Pressure range:Class150~2500(PN16~PN420)
Working temperature:-29℃~+425℃
Send Inquiry :
Contact Us
Name: Mr.Fang
Tel: +86-18072196625
Mobile: +86-18072196625
E-mail: bwss@vip.163.com sales@steelvalve.cn
Add: Room 607, Block No.2, Wanda Plaza, Longwan, Wenzhou City, Zhejiang Province, China
Whatsapp: 86-18072196625
Skype: valvepipe
QQ: 295409951