Non-Lubricated DIN 3002 F1 Sleeved Plug Valves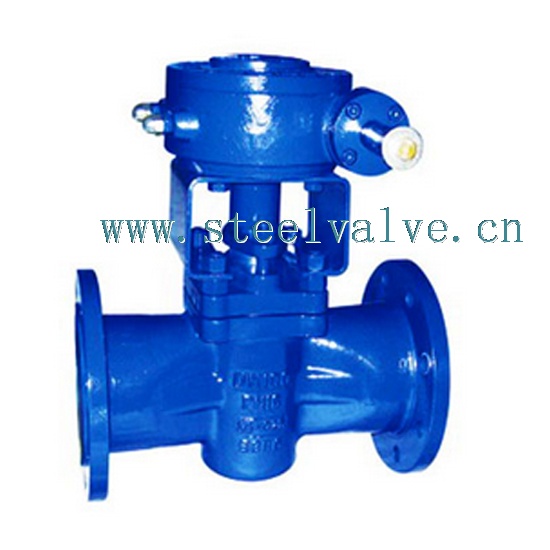 Product name : Non-Lubricated DIN 3002 F1 Sleeved Plug Valves
Products Category: > Plug Valve

Non-Lubricated DIN 3002 F1 Sleeved Plug Valves
Overview
Non-Lubricated DIN 3002 F1 Sleeved plug valve is applicable to the cutting and connection of pipelines medium that aroused in various industries such as petroleum, chemical industry, pharmacy, chemical fertilizer, power industry etc.
It is under nominal pressure of PN 1.6 - 16 MPa, and works at the temperature of -29~180°C.
a. The product has reasonable structure, reliable sealing, excellent performance and beautiful appearance.
b. Its sealing is realized by the sealing face around the sleeve. It has unique 360 degree metal edge for protection and fixing of the sleeve.
c. There is no cavity in the valve for accumulation of medium.
d. Metal edge provides the function of self-cleaning when the plug is rotated, and it's applicable to the operation condition that is glutinous sand apt to smudge.
e. Its double-direction flow makes installation and use more convenient.
f. The materials of the parts and sizes of flanges can be configured reasonably according the actual operation conditions the customer required, so as to meet the various needs of engineering.
Specifications
| | |
| --- | --- |
| Driving | Handwheel, Worm Gear, pneumatic, electric-actuated |
| Design Standard | API 599, API 6D |
| Face to Face | DIN 3002 F1 |
| Flange End | DIN 2543-2549 |
| Test & Inspection | DIN 3230 |
Performances
PN(MPa)
Shell Test (MPa)
Sealing Test (MPa)
Suitable Temperature
Suitable Medium
1.6
2.4
1.76
≤ 180°C
Water Oil & Gas
2.5
3.75
2.75
4.0
6.0
4.4
6.4
9.6
7.04
10.0
15.0
11.0
16.0
24.0
17.6
Materials
| | | |
| --- | --- | --- |
| NO | Part name | Material |
| 1 | Body | GS-C25 1.7363 1.4308 1.4408 1.4306 1.4301 |
| 2 | Sleeve | PTFE |
| 3 | Plug | 1.7363 1.4308 1.4408 1.4306 1.4301 |
| 4 | Gasket | PTFE |
| 5 | Adjusting Gasket | ASTM A182-Gr.F6a ASTM A182-F22 ASTM A182-F304 F316F321,F304L,316L |
| 6 | Cover | GS-C25 1.7363 1.4308 1.4408 1.4306 1.4301 |
| 7 | Adjusting Bolt | ASTM A193-B7 A320-B8 193-B8M |
| 8 | Nut | ASTM A194-2H, A194-8, A194-8M |
| 9 | Bolt | ASTM A193-B7,A193-B8,A193-B8M |
| 10 | Yoke | WCB |
| 11 | Worm | Q235 WCB |
Dimensions and Weights
Pressure
PN 16
Size
15
20
25
32
40
50
65
80
100
125
150
200
250
300
350
L-RF.BW
130
150
160
180
200
230
290
310
350
400
480
600
730
850
980
H
150
155
160
180
190
200
220
230
380
460
520
580
620
680
740
W
300
300
300
350
400
500
500
550
300
300
320
320
350
380
380
Weight(kg)
9
10
11
13
14
19
23
27
43
62
75
155
222
390
580
Pressure
PN 25
Size
15
20
25
32
40
50
65
80
100
125
150
200
250
300
350
L-RF.BW
130
150
160
180
200
230
290
310
350
400
480
600
730
850
980
H
150
155
160
180
190
200
220
230
380
460
520
580
620
680
740
W
300
300
300
350
400
500
500
550
300
300
320
320
350
380
380
Weight(kg)
10
11
13
15
17
22
31
55
77
88
190
190
235
399
630
Pressure
PN 40
Size
15
20
25
32
40
50
65
80
100
125
150
200
250
300
350
L-RF.BW
130
150
160
180
200
230
290
310
350
400
480
600
730
850
H
190
195
225
260
280
310
340
395
435
470
535
590
630
680
720
W
120
140
140
180
200
220
260
280
300
340
400
450
450
500
500
Weight(kg)
12
14
18
21
24
29
33
39
75
103
146
251
337
521
720
Pressure
PN 60
Size
15
20
25
32
40
50
65
80
100
125
150
200
250
300
350
L-RF.BW
130
150
160
180
200
230
290
310
350
400
480
600
730
850
H
190
195
225
260
280
310
340
395
435
470
535
590
630
680
720
W
120
140
140
180
200
220
260
280
300
340
400
450
450
500
500
Weight(kg)
14
17
22
25
29
34
43
50
94
123
170
291
430
625
875
Note: DN 100 mm or above with gear
Send Inquiry :
Contact Us
Name: Mr.Fang
Tel: +86-18072196625
Mobile: +86-18072196625
E-mail: bwss@vip.163.com sales@steelvalve.cn
Add: Room 607, Block No.2, Wanda Plaza, Longwan, Wenzhou City, Zhejiang Province, China
Whatsapp: 86-18072196625
Skype: valvepipe
QQ: 295409951